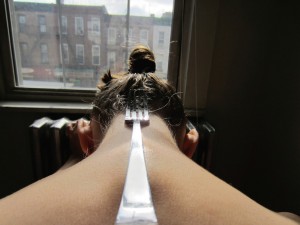 6 th Summer program of the Site for Theatre Practices Lavauzelle
Private space / public space
Vocal and physical theatre – August 8-15 2016
1 st module : Physical theatre / installation
Intentionality and public spaces, led by Elke Luyten and Kira Alker, August 8-12
Within this workshop, we are focusing on intentionality in public spaces, in movement, in dance, in performance art, in actions. Using a set of warm-up exercises we will rediscover the alignment of the body and activate the area around the sacrum. We will stimulate an inner flow of energy that enables the execution of all subsequent movement.
Through the development of short, task-based choreographies we will place an internal logic inside the participant's body and explore a deep investigation in presence and intentionality. The interest is to open our bodies to new somatic experiences and thoughts. We aspire to strip away the need to show, to present and to perform so that the body can exist not only formally but energetically. We would like to create a dialogue and tension between the assumptions within our visual aesthetics.
Elke Luyten and Kira Alker live in New York. They have studied with Thomas Leabhart during about 10 years.
Since 2003, they have been creating collaborative movement performances. Their work has been showcased internationally (REDCAT in Los Angeles, the International Conference on Performance Art Theory in Mexico, the Dream Shot Festival in Belgium, the International Dance Festival in Estonia and the Kyoto University of Art and Design).
Within the artifacts of dance encounters they want to strip down the conventional performance parameters of time, space and subject matter. They are seeing choreography, inevitably as it is, is just theatre.
In 2015. Luyten and Alker created the choreography for David Bowie's short film "Blackstar". Luyten also danced in "Blackstar" and subsequently performed in Bowie's final music video "Lazarus".
Elke has also been the first to receive the position of Artist Advisor at Bob Wilson's Watermill Center (New York). She re-performed several of Abramović's pieces at the exhibition "Marina Abramović: The Artist Is Present" at the MoMA.
She has performed in Robert Wilson's "The Life and Death of Marina Abramović".
*
* *
2 nd module : Singing and vocal dramaturgy
Interstice – sacred territory and profane territory – polyphonic singing from Mediterranea, led by 3 members of the international ensemble In medias res, August 13-15, 2016
Three members of In medias res will lead a 3-day workshop on Mediterranean polyphony, in-between sacred and profane territories. This work falls within the continuity of a regular workshop led this year at Aubusson and Felletin, and aims at reporting the discoveries made during the festival VoicEncounters « Mediterraneas », that happened in Wroclaw, Poland, in April.
To sing polyphony, in-between individual positioning and immersion in a collective sound body, means performing several roles, cut off timidity and ego. It is necessay to be at the same time willing to vanish within the common sound and managing to keep one's line, to physically take part to a common vibration, lead a song, listen to one's voice, phrase a song… During the workshop, we will practice a vocal and physical training adjusted to the specific nature and energy of traditional singing, we will also take a chance to improvize and listen to documents dedicated to traditional polyphony, share a common time and think how traditional practices, everyday life and contemporary creation are related.
The international ensemble In medias res has a contemporary look on the phenomenon of traditional singing in the Latin world, at the crossroad between endemic oral traditions and written sources. The ensemble is interested in the basics of mankind through singing, understood as a sound phenomenon and a cultural fact. Its actual work is based on a seven-year-field- research (Corsica, Sardinia, Sicily) and study of written sources (with such masters as Robert Pozarski and Jean-Etienne Langianni).
The ensemble is directed by Jean-François Favreau, under the auspices of the Grotowski Institute of Wroclaw, Poland, and the Site for Theatre Practices Lavauzelle, France. It received grants from ADAMI/CPMDT, and has been hosted by La Métive (international residency place in Limousin) and the church Notre-Dame- du-Rosaire at Saint-Ouen. Lessons of darkness, a musical dramaturgy based on plolyphonic singing from the Holy Week and The Divine Comedy from Dante, has been performed in different places (in Cuglieri, Sardinia ; Saint-Merri church, Paris ; numerous churches in Limousin), as well as festivals (Avignon Off, festival Tarkovski in Pontigny Abbey, Gorzkie Zale in Warsaw, VoicEncounters in Wroclaw).
The Site for Theatre Practices Lavauzelle
The Site for Theatre Practices is located in a former farm in Limousin and aims at question through practice a certain branch of theatre that is composition-based (rather than interpretation-based) and draws inspiration from traditional forms, used as creative material.
This session is open to actors, dancers and singers, professional or not, that are interested in diving into an intensive work :
– we will work in a former barn, as well as outside ;
– work languages are French and English, in accordance with the group abilities ;
– In the evening : videos watching, recordings listening, talks ;
1 st module : Physical theatre / installation – August 8-12
Intentionality and public spaces, led by Elke Luyten and Kira Alker,
Full fee : 240 euros / Reduced fee (unemployed/students) : 200 euros
Early registration (application sent by July 1 st ) : 200 euros / 160 euros
Full-board accommodation (from August 7 th in the evening to August 13 th in the morning) : 120 euros
2 nd module : Singing and vocal dramaturgy – August 13-15
Interstice – sacred territory and profane territory – polyphonic singing from Mediterranea, led by the international vocal ensemble In medias res
Early registration (application sent by July 1 st ) : 80 euros
Full-board accommodation (from August 13 th in the morning to August 16 in the morning) : 70 euros
The persons willing to attend the two modules will get a 10%-discount on the pedagogical fee (the accommodation fee
To take part to these workshops, please send an email explaining your interest and your performance experience. The selection will aim to create a consistent group and will take into account the order of arrival of the applications.
All applications should be sent by july 24 th .
This event is supported by La Ciate and the municipality of Janaillat.