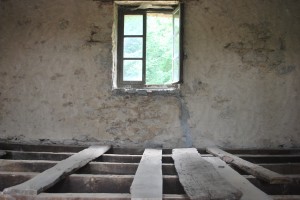 For its 5th year, the Site for theatre practices is under construction… At the same time, we decided this year to dedicate more time to residencies and creation. No intensive summer workshops then…
Though, a series of activities will be held, around 3 residencies :
3 week-ends workshops
– The portugese dancer Raul Maia, invited in Lavauzelle to take part to the development of the project "A Présent", will give a movement workshop (non-dancers friendly) around the idea of a self developing dance (august 15-16, village club of Janaillat)
– The singer Ulyana Horbachevska, involved in a research with the team of Lavauzelle, will give a mastercalss on ukrainian chant (august 22-23th, village club of Pontarion)
– Jean-François Favreau and Marie-Geneviève L'Her will lead a workshop on the repertoire of the ensemble In Medias Res (august 29-30th, in the Fontfeyne chapel, close to Felletin), before the presentation of the sound dramaturgy of the ensemble in september.
…around these workshops, sommes work-presentations will occur :
– august 14th : "Par les temps qui courent", concert at "le Fabuleux destin", Aubusson, théâtre de l'homme ivre + Clélia Colonna
– august 15th : singing vigil at Janaillat's village club (same team)
– august 23rd : ukrainian chants, with Ulyana Horbachevska and the participation of Jean-François Favreau and Clélia Colonna, in Pontarion's village club
– sept 12th (to be confirmed) : concert of the ensemble In Medias Res at la Chapelle Fontfeyne, around Felletin
From august 16th to 21th a widened team will be at work at Lavauzelle on the renovations. You may pass by… letting us know in advance.
… and in 2016, inauguration of the new spaces of "Studio Lavauzelle", with a working space of 85 m2 and a foyer.
See you soon then !