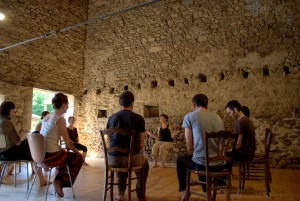 The site for theatre practices is organizing :
– summer workshops (one week or more), directed by guest leaders, drawing a constellation.
– professional workshops (or for "young professionals") in Lavauzelle or outside, often with our artistic partner Drunken man theatre.
– initiation workshops, work demonstrations, public meetings, around our project or a specific question or discipline.
– youth projects on specific topics (like the research "à présent").
– la structuration, en France, d'un réseau (et donc l'échange avec d'autres associations et l'organisation à l'extérieur de stages avec des intervenants invités).
– formation of members (expedition in Corsica, India, Massif Central, grant to study with Jean-Etienne Langianni…)
– Stagiaires programmes (Erasmus, with Institut del Teatro/ Barcelona, for instance).