Przemyslaw Blaczszak (actor and director, Teatr ZAR, Wroclaw)
Przemek is a permanent member of Teatr ZAR ensemble. He leads there a part of the physical training of the group – beinng inspired by the japanese martial art Aïkido, acrobatics, contact impro, or the work of Theodoros Terzopoulos.
He collaborates with the Site de pratiques théâtrales since 2012 :
– for the programme "raw materials" in 2012 (link below to the interview),
– for a series of workshops in Paris in october 2013 (Micadanses) and Marseilles (Collectif L'Impulsion).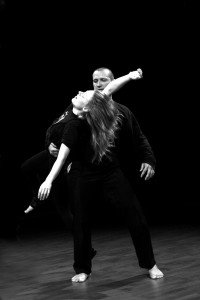 Przemek studied philosophy at the University of Wrocław's Faculty of Social Sciences. He has been connected with the Grotowski Institute since 1995. Between 1996 and 1999 he worked with Grzegorz Bral's Song of the Goat Theatre, performing in Dithyramb. In the autumn of 2002, he began working on his own project, which culminated in a solo performance, Ecce Homo. Since 2004, he has been an actor of Teatr ZAR, participating in the Gospels of Childhood project (a triptych comprising Gospels of Childhood, Caesarian Section and Anhelli), led by Jarosław Fret.
For over six years he has studied Aikido under sensei Piotr Masztalerz (5th Dan), as well as in Japan and Mexico. He practiced as well Shintaido under the guidance of Toshi Tushitori (member Peter Brook's CIRT). He has been directing physical trainings and workshops in various schools and associations, in Poland and abroad. As an actor, he is actually involved in the new Teatr ZAR piece, Armine, and collaborates with the Greek director Theodoros Terzopoulos for his next performance based on Heiner Müller.
text from the work demonstration / meeting in Lavauzelle, and links
Picture : Irena Lipinska