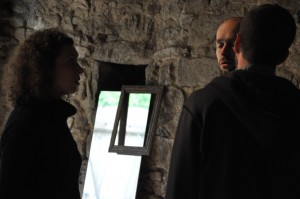 3 regular workshops are going on during the year time, with a highlight in summertime in Lavauzelle* :
Polyphonies, in the café le Fabuleux destin / Aubusson. A sunday per month, from 10 to 5 PM, with a lunchtime (shared lunch). Participation : 30 euros. The workshop, settled in 2015, is led by  Jean-François Favreau with the occasional help of Marie-Geneviève L'Her.
at la Ruchidée, 16, rue de la Croix Rouge, LIMOGES, 10 to 5:30 PM, with a shared lunch. Participation : 35 euros.
at l'espace Claude Chabrol, Sardent, 1st and 3rd wednesday of the month 6PM-8:30 PM.
Repertories : sacred and profane, polyphonies from Corsica, Sardinia, Italy, Georgia, the Ukraine… baroque music, french folk sings, haitian ritual chants, improvisation and plays…
It is possible to join any of the two workshops at any moment during the year time. The workshop, as a group of traditional singers, is by principle open to newcomers, and to the challenge to sing without a usual leader. It is responding to circumstances.
Details and up to date information are available in the news section.
* every summer, between the middle and end of August, a workshop is taking place in residency, involving participants of one workshop or the other, as well as participants coming from the distance.
The applications are to be sent at least 2 days before the appointment, by email to spt@lavauzelle.org or 0033610101944