Μελέτη • MELÉTÈ • the exercice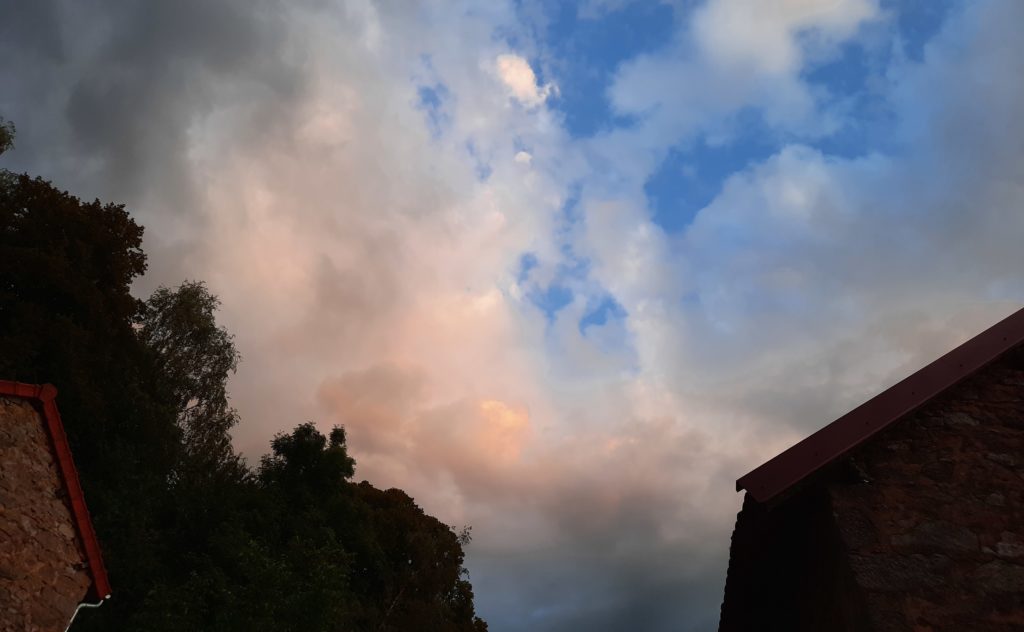 photo S. Lhuillery
Μελέτη • MELETÈ • the exercice
Melétè : the word means, in Greek – and depending on the occurrence – exercise, practice, assimilation, care. It is also a proper name, that of the second of the three archaic Greek muses (until they were depicted as 9), who are daughters of Zeus and Mnemosyne. The three sisters do manifest the essential process of oral transmission and knowledge acquirement. Aédè represents the human voice that we perceive, receive, and emit, Melétè, the effort made to connect with what is received and the way we deal with its effects, Mnémè : the memory that results from it.
The workshops offered in Lavauzelle for 12 years are aimed at people interested in performative practices: theatre, singing, dance, martial arts, ritual arts… They aim to nourish and broaden the individual experience of the stage by a step on side, but also to offer a space-and-time for work on oneself, as well as for diving into a collective experience.
In this sense, exercise (melétè) designates both the physical activation and the deposit that takes place in the bodily memory, the appropriation of a transmission, and also the work and the care of oneself, the practice reflective, meditation.
The immersive workshop is made up of 3 modules, the last of which is double:
1/ Butoh dance • with Maki Watanabe from July 31 to August 3
2/ Voice and Body (Molik_Parente) • Jorge Parente, assisted by Antonio Dente, from August 4 to 8
3/ Systema • martial and energy art, with Aziz Drabia, mornings from August 9 to 12 and
and Armenian Modal Singing • Aram and Virginia Kerovpyan, afternoons from August 9 to 12
We thus intend to propose four distinct entrances, four paths accompanied by practitioners, themselves receivers and vectors of an oral transmission. But with this juxtaposition, and by taking care of the moments of meeting – the joints between the different modules, we also make ourselves available to get lost sometimes to better find ourselves, and weave individual itineraries and collective processes.
All of these modules, lasting 13 days, are composed as a coherent immersive course. However, each module (and even each proposal) can be followed independently.
These proposals are open to people wishing to engage in a process, whether they are theatre, dance, music or circus professionals, or in training or retraining, or even to amateurs who already have an experience.
Most of the workshops will in principle be principally conducted in French, but translation into English is proposed.
•
FIRST PART: July 31-August 3
BUTÔ DANCE, Maki Watanabe
By observing the cloud, the sunlight, the movements of the leaves of the tree, of the insects, of different things in nature, we will try to dance with all our possibilities, and all our strength.
Being a flower, a wind, an animal, a stone, are eternal dance themes.
The course will take place through various observation works on the body, such as the work of immobility and breathing; work on the center, the points, the lines, the axis, the lower part of the body in its relationship with the ground, the top, and space. We will also work on imaginations, transformation, etc. There will be dances on proposed themes, and dances in improvisation. The course is open to beginners and people with experience.
Please provide clothes that you can get dirty for outdoor work and shoes to eventually run and dance at ease.
Is a butoh dancer. Born in 1976 in Sendai, Japan.
After a dance training (modern jazz), she joined the world of butoh dance in 1995, initiated by Kazuo Ohno, Masaki Iwana, Marie Kazue.
Based in Paris since 1998, she created many solo improvised and experimental performances as well as creations. At the same time, she danced in the pieces of choreographers such as Gyohei Zaitsu, Naomi Mutoh, Katy Roulaud. She also collaborates with musicians and directors.
•
SECOND PART: August 4-8
VOICE AND BODY (Molik_Parente)
Jorge Parente, assisted by Antonio Dente
The technique of Zygmunt Molik (who designated Jorge Parente as the successor of his practice) is based on a "Body Alphabet", each "letter" of which is structured to serve the voice, precise physical actions, which fully mobilize the Being, and invite everyone to explore and discover their voice. This releases a richer and more subtle creative energy.
From this, the participants will then work on personal materials, songs or texts, improvisations and collective structures.
Each participant should bring one or two songs and a text known by heart and precisely memorized.
A trained actor and director, Jorge was assistant to Zygmunt MOLIK, the actor in Jerzy Grotowski's Laboratory Theater in charge of vocal training, and, beyond that, designer of an educational method aimed at freeing the voice and creativity through the use of bodily supports. Jorge has been appointed to take over this work since 2010, which he has been doing in an international network of locations, and in Lavauzelle, every summer since 2018.
•
THIRD PART: August 9-12
Mornings: Systema, Russian martial and energetic art
Afternoons: Armenian Modal Chant
•
SYSTEMA
with Aziz Drabia
Restlessness comes from a worried mind and is a response to that worry, not to the situation that causes it. It is an expression of frustration.
To eat when you are hungry is to act – when you are not hungry, it is restlessness. In the same way, to respond to an unexpected situation directly and spontaneously is to act. Responding to it according to what we have planned in the abstract, without seeing how the concrete situation differs from our forecasts, is to get agitated.
By agitating, we allow our behavior to be dictated by the course of the world. By acting, we express our freedom. Systema does not prepare for any particular situation but develops the sense of action, that is to say freedom, in all circumstances.
The workshop is aimed without restriction at anyone wishing to work on their apprehensions and their attitude in the face of obstacles. Provide flexible clothing and indoor sports shoes.
After a few attempts in different fighting arts, a friend recommended the Systema to me. He explains the principles to me and shows me their effectiveness. Piqued in my curiosity, I participated in July 2009 in my first seminar with Jérôme Kadian.
Since then, I haven't stopped training. I multiplied the seminars and extended stays with the best instructors, in particular Konstantin Komarov and Vladimir Vasiliev. He gave me the title of instructor in training in April 2012, then that of instructor in April 2013. During the summer of 2020, I left Lille where I gave lessons daily to settle in Brittany , away from the noise, and offer, to those who want it and make conditions for themselves, a tailor-made physical and mental training.
•
MODAL SINGING – introduction to modality in the Armenian tradition
Aram and Virginia Kerovpyan, AKN choir
This workshop proposes a journey towards a particular sound environment, called "musical mode".
In its objective aspect, a musical mode includes all the components of the ordering of sounds, such as the intervals, the relationship between the different sounds, the way of interpreting the different degrees to establish the sound environment. The relationship to a drone is an integral part of this.
It establishes a specific auditory sensation that results in a "state of being", an ethos, different from that of contemporary Western music.
Access to the modal song that will be offered involves the sensitive, subjective discovery of natural intervals and harmonies that are no longer practiced in contemporary urban space. By a progressive work, carried out on the basis of an Armenian repertoire, the participant learns to consider a melody within the framework of a mode, that is to say of a sound environment in movement, and not as a succession notes or patterns. The total presence and commitment of the participant makes it possible to work on oneself and to experience a moment of inner peace, to be in a mode, in a musical mode.
The workshop is based on a principle of repetition and a vocabulary of gestures; no musical knowledge is required.
Aram Kerovpyan grew up in the Armenian community of Istanbul, and very early in contact with liturgical singers and then musicians, in the vicinity of whom he learned the practice of kanoun. Based in Paris since 1977, he created the AKN choir (which means "the eye", in classical Armenian, but also "the source") and the Center for the Study of Armenian Modal Singing in Paris, became master cantor at the cathedral Armenian from Paris. He is a doctor in musicology (EHESS), author of books and articles, and teaches in many countries.
Virginia Kerovpyan, born in the United States, is a singer, trained in particular in the interpretation of early music. Completing her training at the CNSM in Paris, she participated in concerts and recordings with major Baroque and Renaissance music ensembles such as Les Arts Florissants, Ensemble Guillaume de Machaut in Paris, Per Cantar e Sonar, L'Offrande Musicale. She participates in the creation of the AKN ensemble, of which she is the main soloist, and which accompanies her research and her educational approach.
•
Practical information
FEES *
ENTIRE WORKSHOP: 670 / 590 euros
Separate modules:
"Butô dance (4 days): 220 / 180 e
Voice and body (5 days): 320 / 275 e
Last module • Systema  + Armenian modal song (4 days): 240 / 200 e
Systema only (4 days): 130/100 e
Armenian modal singing only (4 days): 140 / 120 e
*The reduced rate (TR.) applies to job seekers, intermittent workers, students, regular participants of the "Polyphonies" workshop in Aubusson. In case of doubt, or special cases, consult us.
Accommodation and catering *
Accommodation (accommodation in surrounding gîtes, in principle in rooms with one or two beds): we propose to group reservations to arrive at a rate of 14 e / night
Food (3 meals a day and snacks during breaks – fresh products mainly of local origin, mostly vegetarian, prepared together on site): 13 e / day
* Please contact us imperatively before the course for any reservations and questions relating to accommodation, specific diet, etc.
Routes
It is desirable to arrive the day before the first day of the workshop and to plan to return the day after the last day (i.e. 14 nights on site in the case of the entire immersive workshop).
We recommend using carpooling and will connect the people concerned and volunteers.
We can organize shuttles (for free) to pick up and return participants to Guéret (bus) station, or even La Souterraine (Paris-Austerlitz / Toulouse rail line) as long as arrivals are coordinated in advance.
Here too, it is desirable to express your needs before the workshops.
By car: how to get to Lavauzelle?
To register
Please let us know your interest by email, post or telephone, clearly indicating your background, the reason for your interest, and the terms of your participation, as well as any information that we need to know about you.
In agreement with the leaders, we will make a selection during the month of June. At the end of the month, if your participation is confirmed, you will be asked to pay a deposit corresponding to half of your registration price and accommodation costs to definitively reserve your place. If constraints require you to organize your trip in advance, do not hesitate to contact us.
In the hypothesis that an event of force majeure (sanitary, for example, etc.) forces us to cancel the courses, we undertake to reimburse the deposit. In the event of individual cancellation, the sums paid will remain due.
This programme, run by the SPT Lavauzelle association, benefits from aid for events from the community of Creuse Sud-Ouest municipalities. The association is supported, for specific actions, by the Regional Department of Cultural Affairs of Nouvelle-Aquitaine, the municipality of Janaillat.
SPT Lavauzelle, 1 La Vauzelle, 23250 Janaillat / spt (at) lavauzelle.org / 0033 555 54 91 50