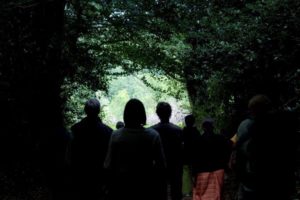 Performance in situ Carré d'herbe, Cie Siloe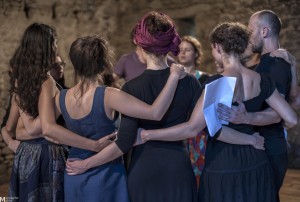 Workshops polyphonies, ph. Magdalena Madra
–
Second part of the summer workshop 8th edition
"VIS A VIS"
a week for 2 workshops, to be combined or not (we do !)
20-22.08 : Dance in a landscape (Claire Newland, Siloe)
et 23-25.08 : Polyphonies (Jean-François Favreau, L'homme ivre)
–
– Dance in a landscape –
Workshop led by Claire Newland, choreographer, dancer and pedagogue, founder of fondatrice de  Siloe ensemble, between Limousin and Occitanie, specialized in young audience and in situ performance. 
Open to everyone.
Since "Carré d'herbes", in 2009, Claire is leading in situ movement workshops for adults, school children, teenagers…
Our body, a landscape to discover, to open, the body of the Earth, as a vast, infinite field of experience. Here let resound the notion of edge… 
To let ourselves get immerge in the space of our senses, to enlarge our perceptions, touch and contact, to stimulate our body structure, to connect, let ourselves be hold by the system of our organs. To let the fluxes of movement pass through ourselves, in and around us, in relation to others, to the contextes…
Start from the hearing, in order to challenge the thread of dance, going through exploration processes, scores and improvisation, alone, in couples or in group, in a benevolent environment. We will, as well, explore the place of the witness.
In alternance : inside and outside practices. 5 to 6 hours a day. Take soft clothes, comfortables, walking shoes, hats, light coats. 
Leader : Claire Newland – artiste chorégraphique
– Polyphonies –
Workshop led by Jean-François Favreau, actor-singer, musical theatre director, researcher in traditional singing – L'homme ivre ensemble.
Open to everyone.
The workshop will give us the opportunity to meet our environment, the other (and ourselves) through vibrating, through the touch even more than earing. It will give us opportunity to sing forms coming from traditional cultures (different sound phenomenons coming from different cultures/repertoires). As those traditions, orally transmitted and "anonymous", we will need to get "invisible" in the mixture of voices but, even more, essential to the group, to be the one carrying the whole utterance – without being deaf to the others.

Using all the instantly available resource, including the "wrong" tones, we'll aim to make ours the musical formulas, using prosody, timbre, tempo, ornaments… The only criterion will then be not the "right" but the richness, thickness of the sound one's body can mesure.
The workshop will consist in a physical preparation based on the opening of vibratory spaces in the body. Then, we'll get to a time of meeting through sound (improvisation) our/other's bodies, as well as the space, to visit various heights and vowels. Then, we'll go through several pieces from the traditional repertoires – using the tools of the oral transmission and collective intelligence.
Leader : Jean-François Favreau, comédien et metteur en scène de théâtre musical
–
Conditions :
The work will take place in a barn (80m2) on the border of the forest, as well as outside.
–
Timetable :
19.08 : arrival of participants
20-22.08 : workshop "dancing in a landscape" (5 à 6 hours a day), food will be prepared together
23-25.08 : workshop "polyphonies" (5 à 6 hours a day), food will be prepared together
22.08 : open festive evening, with visitors people from the area
23.08 : departure
–
Fee :
– a workshop : 110 euros
– 2 workshops : 170 euros
– reduced price (students, unemployed, early bird discount, members of the Aubusson yearly polyphonies atelier) : 80 euros for one workshop, 130 for both
– full board accommodation  : 28 euros a day/person (accommodation in guesthouses from the area and meals prepared together)
– lunches only : 10 euros a day (including breakfast) or 5 euros/meal
if you have questions about accommodation, please contact us.
Deadline for enrollment : 25th of July. Please send your application with a (short) presentation of your trajectory and interest. The 1st of August, a deposit (half of the fee) will be requested.
Early bird discount (reduced price) is valid till June 25th.
–
Information, applications :
spt@lavauzelle.org
Site de pratiques théâtrales, 1, La Vauzelle, 23250 Janaillat
0033 555 54 91 50